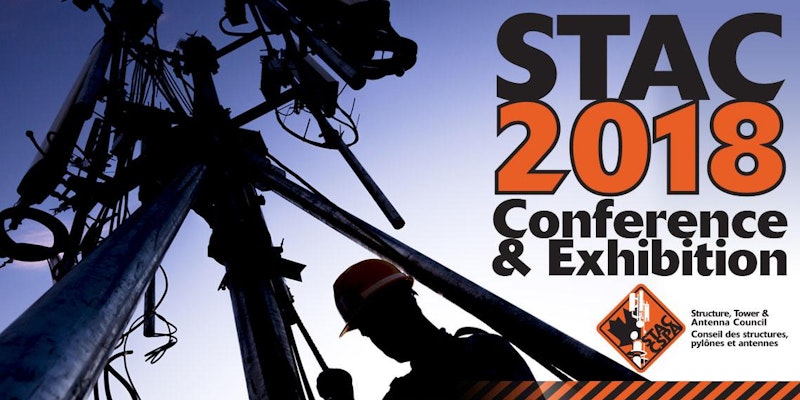 CSSE Edmonton is pleased to offer the STAC Member Early Bird rate to our CSSE members! This is a saving of $200 for non-STAC members! 
STAC 2018 Conference & Exhibition will feature two full days of discussion and presentations by industry-leading thinkers on the most important issues in the Canadian tower industry, as well as insight into the oil and gas industry's diligent approach to addressing safety hazards. 
The annual STAC conference is the premier event dedicated to Canadian tower safety and is devoted to sharing the important information and best practices that will help maintain Canada's world-leading tower safety record. STAC 2018 will bring together approximately 300 communications and tower industry professionals, including wireless carriers, broadcasters, engineers, contractors, manufacturers, landowners, safety equipment suppliers and safety trainers, among others. Attendees will learn about new industry practices and technologies and will receive exclusive information about the development of STAC best practices and other industry resources that are normally only available to STAC Members.
Benefits for STAC 2018 delegates:
Learn about new developments and industry-leading practices in fall protection, tower engineering and other industry topics;
Network with more than 300 industry personnel – throughout the conference and at the renowned annual STAC conference reception;
Gain access to STAC resources such as best practice documents and industry safety guidelines;
Join the STAC conference outing to local Calgary-area breweries;
Demonstrate your commitment to ensuring the continued safety of tower industry personnel;
If you have any questions about the conference, free feel to contact STAC member and our Director of Communications & Engagement - Aimee Arsenault (aimee.arsenault@tridon.com) or Nick Kyonka, Program Director - Structure, Tower and Antenna Council (STAC) at (613) 233-4888 x227 ǀ nkyonka@stacouncil.ca. 
WHEN
April 16, 2018 at 8:30am - April 17, 2018
WHERE
Hyatt Regency Calgary

CONTACT
Nicholas Kyonka - Program Director - Structure, Tower and Antenna Council (STAC) ·
---